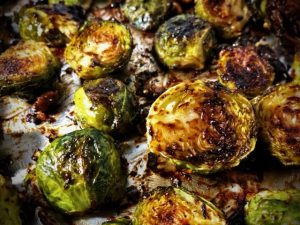 Ingredients:
Whole washed Brussel sprouts
Thick style bacon (we prefer Bill Es Bacon) * Do not cook prior * Cube bacon small 1/4-1/2 inch
Balsamic vinegar
Salt & pepper to taste
Dr. Bills Cane and Maple Syrup
Directions:
1. Place Brussel Sprouts on a cookie sheet with foil.
2. Break up bacon cubes around sprouts.
3. Season with olive oil, balsamic vinegar, salt , and Dr Bills to taste.
4. Bake at 400 for about 20 minutes, stirring occasionally.
5. Finish off at 425  for last 5 minutes.
Enjoy!
Recipe by Rebecca and Cheri Kauffman