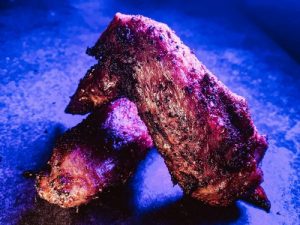 Recipe by Ukuele Jay BBQ
Ingredients:
Oakridge BBQ Smokey Chipotle Lime Rub
Oakridge BBQ SPOG Rub
1 Dozen Full Wings
2 Tbsp Apple Cider Vinegar
3/4 cup Dr. Bill's Cane & Maple Syrup
3/4 cup Coffee Blossom Honey (or just use regular honey )
2 Tbsp Butter
Optional – D.a.T. SaUcE or your own hot sauce blend
1. Prepare your wings on an elevated rack, and generously coat them all over with Oakridge BBQ Smokey Chipotle Lime Rub.  Place in refrigerator for 24 hour so the water is pulled from the wings and dried out. Don't be shy!
2. Using an air fryer preheat your air fryer at 400F for 8 minutes. Then set the air fryer to 360 for 13 minutes and set your wings in, trying to place them vertically standing up around the edge of the air fryer with the remaining few in the center laying down (best way I have found to get it really crispy).
3. After the air fryer stops after 13 minutes, open the air fryer and rotate the vertical wings and turn over the wings on the bottom of the tray. Set your air fryer to 360 for 12 minutes.
4. After 12 minutes, open and check the wings, and if they are good you are done. For extra cripy wings I turn the wings over for a 3rd time and go another 3 minutes at 380F.
5. Now that your wings are done, put them in the bowl and add the sauce and toss.
Ukulele Jay BBQ's Strum Pluckin Wing Sauce
1. In a saucepan, on LOW heat combine your Dr. Bill's Cane & Maple Syrup, Honey, Butter, and Apple Cider Vinegar and start stirring. You want to combine all the ingredients until everything is melted together well including the butter.
2. Turn up to medium heat to allow mixture to almost boil and then shut off the heat and remove from the stove to let cool down.
3. Once the wings are done, your sauce will be thicker (stir it up) and stick to the wings perfectly.  If you love sauce, then go heavy and if you like a less saucy or dry wing, start light and add to your taste.
Servings: 2
Note from Ukulele Jay:
Air Fried Habanero Salted (optional) Cane & Maple Chicken wings are incredible. While everyone is doing hot wings, I like to so my sweet wings with a warm finish by using Habanero salt or a spicy rub as my base.  My favorite bbq rub is Oakridge BBQ  and for this cook I used the Smokey Chipotle Lime Rub which went perfect with Dr. Bill's Cane & Maple Syrup.