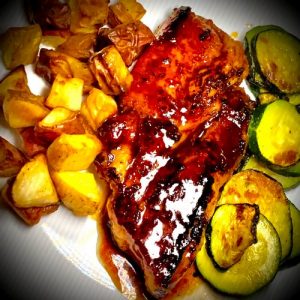 Ingredients:
4 Center Cut Pork Chops
Oakridge BBQ "Secret Weapon" Pork & Chicken Rub
1/2 cup Dr. Bill's Cane & Maple Syrup
1/3 cup Coffee Blossom Honey (any honey is fine)
4 Tbsp Anjou Pear Vinegar (Rum Vinegar is fine, as well as other full liquid vinegars, not Balsamic as it will burn).
Directions: 
1. Combine all liquid ingredients and stir until once creamy mixture and set aside for glaze.
2. Season pork chops on both sides liberally with Oakridge BBQ Secret Weapon Pork and Chicken Rub. Cook Pork Chop searing in a cast iron or your favorite searing pan, you want to sear all the sides and especially the fat edges as that's going to be the tastiest part. Make sure you monitor the temps with The MeatStick or any other thermometer. The meat will reach 95-105 degrees by the time you are done searing.
3. Place the entire pan into an oven preheated at 400F. Cast iron can do this fine.  Using your thermometer make sure the meat does not go past 125 degrees internal temp and once 125 remove from the stove.
4. Using gloves, remove the pan from the oven and bring over to the stove on Medium heat until the meat reaches an internal temp of 135 degrees.
5. Pour the glaze mixture around the chops, and over the top.
6. Rotate and turn over the chops as glaze will thicken. Glaze should start to bubble and caramelization will occur. Once that happens, coat the chops well and remove the chops to let sit for 2 minutes.
7. Glaze will continue to thicken and what it reaches desired thickness, remove from heat, turn off stove and oven and spoon glaze over sauce.  Enjoy!
Servings: 4
Tips:
Do not cheat the 2 minute rest!
Serve with potatoes and zucchini or your favorite starch and vegetable.