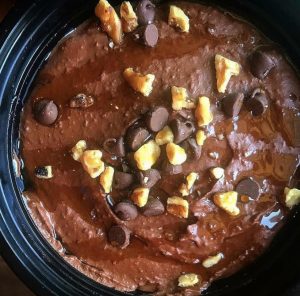 Recipe by  Louisiana Eats Nola
Ingredients:
1/2 cup of Camellia Beans (Red Beans)
2 tbs Tahini
2 tbs Dr. Bill's Cane & Maple Syrup
1/4 cup coco powder
1/2 tbs vanilla extract
Pinch of salt
Topping: chocolate chips, nuts, and/or honey
Directions:
1.  Soak 1/2 cup of Camellia Beans (Red Beans) over night.
2. The next day, cook them on stove (drain and add fresh water). Bring the beans to a boil then reduced heat to a simmer for 40ish minutes.  Drain and Cool.
3.  Combine the cooked beans,  tahini,  Dr. Bill's Maple Syrup, coco powder, vanilla extract and salt. Food process until pureed with even consistency. If needed, add a little water, a tablespoon at a time, while food processor is running to get to the consistency you like. Top with some chocolate chips, nuts and/or a drizzle of syrup or honey.
Tips:
Enjoy with Graham crackers, pretzels, fruit or whatever floats your boat. We like salty toasted pita chips!
Louisiana Eats! is a radio show hosted by Poppy Tooker on 89.9FM Public Radio New Orleans for people who cook and people who love to eat well—all with a Louisiana point of view and Poppy's distinctive Louisiana voice. In each program listeners join Poppy as she meets people who produce, cook, and eat the foods we enjoy and treasure — exploring kitchens and stores, farms and waterways where favorite foods are produced and prepared. And because Louisianans love all kinds of food, Poppy won't limit herself to shrimp creole and hot sauce. The show airs Saturdays at 3PM/C and Mondays at 8PM/C.