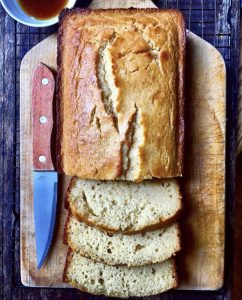 Recipe by Diane Morrisey 
This simple but delicious cake is not too overly sweet at all making it a perfect cake for breakfast, too!
Ingredients:
1/2 cup maple syrup
3/4 cup greek yogurt
1/4 cup sugar
3 eggs
1 teaspoon vanilla
1/2 teaspoon lemon zest
1 1/2 cups flour
2 teaspoons baking powder
1/4 teaspoon salt
1/2 cup oil
Directions:
Preheat oven to 350°F. Spray a loaf pan with cooking spray or line with parchment. Combine syrup, yogurt, eggs, sugar, vanilla, and lemon zest. Whisk to combine. In a separate bowl, combine flour, baking powder, and salt. Add to wet ingredients and stir to incorporate. Add oil, and fold gradually until oil absorbs into the batter. Pour batter into prepared loaf pan. Place pan on baking sheet in oven and bake until tester inserted into center comes out clean, about 50 minutes. Cool cake in pan on rack 5 minutes.
Diane Morrisey is an incredible chef with over 205,000 followers on Instagram. She absolutely loves Dr. Bill's Syrup and we are thrilled she has included us in some of her recipes.