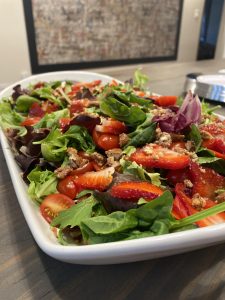 Recipe by Chef Gason 
Ingredients: 
3 tablespoons Dr Bills Cane & Maple Syrup
1 tablespoon dijon mustard
 Salt & Pepper to taste
1 large garlic clove minced
1/4 cup balsamic vinegar
3/4 cup extra virgin olive oil
Directions: 
In a small mixing bowl, whisk together the Dr Bill's Cane & Maple Syrup, vinegar, mustard, salt, pepper and garlic. Add the oil and whisk thoroughly to combine. Continue whisking until the dressing is fully emulsified. Makes just a little more than a cup.
• Store in a jar with a lid and refrigerate. Shake well before serving. TOO EASY!!!