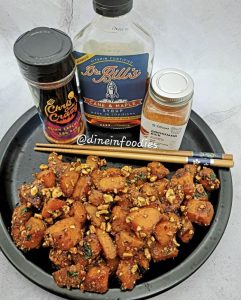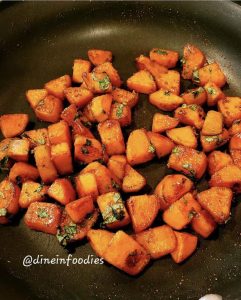 Here is a Texas spin on a Street snack still found on the streets of Seoul!  Inspired by MAANGCHI'S Korean cooking cookbook recipe for Candied Sweet, heat, crunchy and creamy texture inside of each Sweet potatoe bite, created by Dine In Foodies of Houston, Texas.
Ingredients:
3 Sweet Potatoes
2 tsp Vegetable Oil
1/3 c Dr. Bill's Syrup
1 tsp Light Soy Sauce
1/4 c  Cashews, toasted and chopped
1 Perilla leaf, chopped
1 tsp Gochujang Kick
1 tsp Asian Explosion BBQ
1 tsp roasted seasame seeds
salt &a black pepper to taste
Directions:
Peel, dice, and boil sweet potatoes until tender.  Then drain and allow to dry. 
Add vegetable oil in a Sautee pan over medium heat and toss in Sweet potatoes until you get a crisp outside of potatoes. 
Then add Dr.Bills Syrup and Soy sauce and coat potatoes.  Turn heat down to low and add the rest of ingredients. Stir mixture thoroughly. Serve and enjoy.