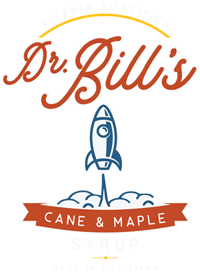 Acorn Squash with Dr. Bill's Cane & Maple Syrup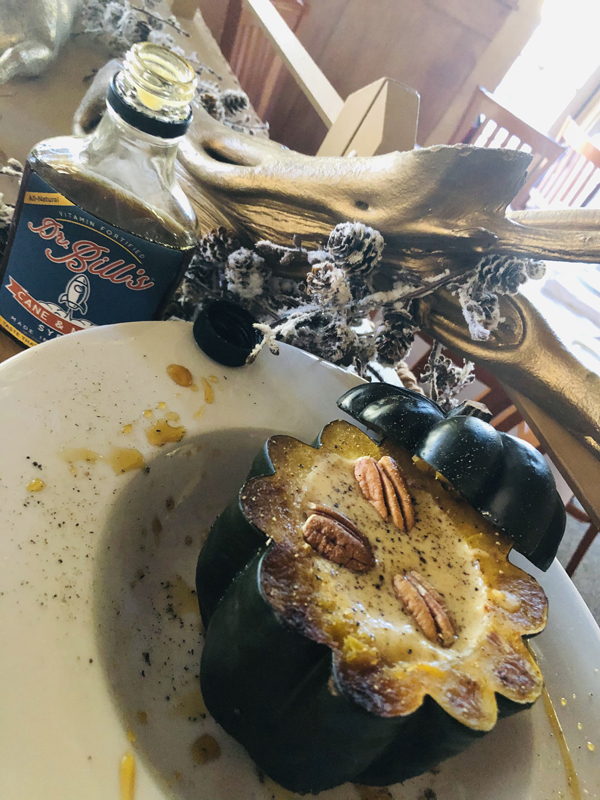 Ingredients:
2 medium-size acorn squash
¼ cup unsalted butter
1 medium onion, chopped small
2 golden delicious apples, skinned and medium diced
½ cup Cane & Maple syrup (Dr. Bill's brand)
1 cup unfiltered old-fashioned spiced apple cider
Pinch kosher salt and fresh-cracked pepper

Method:
Preheat oven to 400°F
Split squash in half. Remove and discard seeds. Place cut sides down on baking pans and add 2 cups water to pans. Place on rack in oven and roast for 1 hour or until fork tender. Remove softened pulp from squash with a spoon and set aside. Put half the butter and the onions in a soup pot and caramelize onions over medium-high heat for 5 minutes. Add diced apples and sauté 5 more minutes. Then, over medium heat, add squash pulp and syrup and reduce mixture for another 2 minutes. Transfer pulp mixture into food processor, run until smooth, and then add hot apple cider to thin the consistency. Add remaining whole butter and seasonings. Garnish (optional) and serve in soup bowls.
Another serving option: Split and roast four acorn squash instead of two. Present soup in a natural squash half-bowl by removing some of the seeds and pulp with a spoon and slicing a small piece off the bottoms so the squash sit flat. Then pour in the soup and add garnish (optional).
Garnish:
½ cup whipping cream
1 cinnamon stick
1 tablespoon Cane & Maple syrup
¼ cup pecans
Reduce cream and cinnamon stick for 15 minutes over low heat until thick. Whisk frequently with balloon whisk; remove stick. Toast pecans on baking pan for 10-12 minutes at 325°F. Drizzle soup with the syrup. Sprinkle with toasted pecans.